Although Wiscoy for Animals' primary identity is that of a retail business, we assume responsibility for doing our part to contribute to the overall quality of our local community and the environment in general. Wiscoy's philanthropic efforts extend to diverse causes and organizations that share our belief that the environment and its inhabitants warrant care and preservation.
Wiscoy contributes financial and general support to several animal rescue and placement organizations. Our store features adoptable cats from various rescue groups. Several times a year, we welcome to our store other animals in need of homes, accompanied by agencies sponsoring them.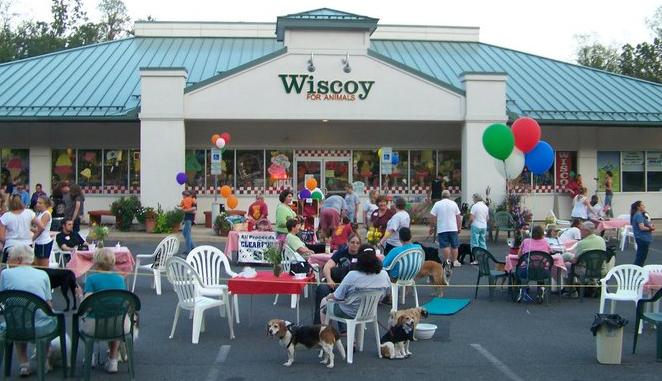 Ice Cream Socials - FOR DOGS - The Coolest Event Every Friday in August - 6pm-8pm
Wiscoy for Animals is proud to maintain a supportive relationship with the following organizations:
Clearfield County SPCA
PAWS
Pets Come 1st
Nit A Nee Kennel Club
Clearwater Conservancy
Pennsylvania Association for Sustainable Agriculture (PASA)
AERO (Alternative Energy Resource Organization of Montana)
WPSU
Shaver's Creek Environmental Center
Millbrook Marsh Nature Center
Centre County United Way
The Ruffed Grouse Society
Ducks Unlimited
Centre Wildlife Care
Trout Unlimited
State College Spikes
Centre County Youth Services Bureau
Wiscoy for Animals understands that the relationships between pets and their owners is as important as pet care and nutrition. To enhance the bonds between our customers and their cherished animals, we host activities throughout the year which are free and open to the entire community, and are designed as fun for all members of pet loving families. We enjoy the opportunity to express our appreciation to loyal customers, and love having time to visit with them throughout the year at the following scheduled events:
Easter Biscuit Hunt
Treats for Tricks
Ice Cream Socials - FOR DOGS - The Coolest Event in State College Every Friday in August - 6pm-8pm
Informational Discussions - Bluebirds, hummingbirds, chickens
Please stop in and join us - there's something for everyone!